Obituary for Ronald J. Harris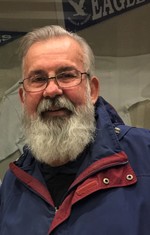 Clinton-Ronald Jay Harris, 73, passed away peacefully on Monday, August 19, 2019 at UMass Medical Center following an illness.  He is preceded in death by his beloved wife of 47 years, June (Hilbert) Harris.  He is survived by his two sons, Lance E. Harris and wife Michelle of Sterling; and Scott A. Harris and his fiancée Brooke King of Concord; two grandchildren, Ronald Jackson Harris and Sara Harris; two siblings, Darlene Harris of Chandler, Ariz. and Duane Harris of Wasilla, Alaska; as well as several nieces and nephews.  He is pre-deceased by his sister, Annette Harris. 

Ronald was born in Brattleboro, Vt. to the late Ronald Junior & Mabel (Henderson) Harris.  He spent his childhood in Vermont and Oregon, and graduated in 1963 from South Lancaster Academy.  Ron studied both Music and Art at Atlantic Union College, where he was recognized for his talented work in ceramics. 

In 1966, he enlisted in the United States Marine Corps and proudly served two tours of duty in Vietnam before being wounded in action while under enemy fire in Quang Tri Province, on March 1, 1968.  As a recipient of the Purple Heart Medal and a Disabled American Veteran, Ron remained a staunch advocate for veterans affairs, notably through his involvement with the Worcester Vet Center and the Yoga Warriors International Program, and his support of the Patriot Guard of Massachusetts. 

Following military service, Ron returned home safely and worked for many years as a foreman for Atlantic Bookbinders.  He later joined Allmerica Financial and was employed as a Compliance Analyst until retiring.  In his spare time, Ron was a competitive poker player and avid fisherman.  Ron celebrated his retirement cruising the globe with his wife June and their many friends, and spending countless hours with his adored grandchildren Jackson and Sara. Ron was a skilled musician, a proud patriot, devoted family man and friend. 

A memorial service will be held Friday, August 30, 2019 at 5:30PM at the First Church in Sterling, 6 Meetinghouse Hill Road, Sterling. A graveside service with military honors to be rendered by the United States Marine Corps will be held on Saturday, August 31, 2019 at 10AM at Eastwood Cemetery, Lancaster.  In lieu of flowers, memorial contributions may be made in memory of Ronald J. Harris to Yoga Warriors International at Yoga Garden, c/o Yoga WI, 101 E. Chatham Street, Apex, NC 27502, or online at www.yogawarriors.com/donate. Funeral arrangements are entrusted to the care of Philbin-Comeau Funeral Home, 176 Water St., Clinton.  Online condolences may be placed at www.philbincomeaufh.com.