Obituary for Marjorie E. Brown (Howell)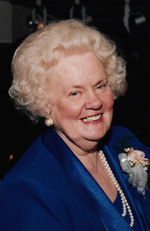 Boylston - Marjorie (Howell) Brown, 92, passed away Saturday, January 29, 2022. Born in 1929, she was the daughter of the late Aline Howell and the late George Howell of Sudbury. Marjorie was married to the late John M. Brown of Bolton. Marjorie had four kids with John — all of whom she claimed were her favorite — The late Diane Jewell and her husband Robert Jewell of Brookfield, LuAnn Jewell of East Brookfield, John Brown and his wife Kathleen Brown of Boylston and Pamela Erskine and the late Paul Erskine of Rutland.
Marjorie had a big family that she loved dearly, along with her four kids she is survived by 13 grandchildren, Robert Jewell, Valerie Preston-Thomas, Rachel Ellis, Michael Jewell, Jessica Jewell, Megan Jewell, John Brown, Matthew Brown, Thomas Brown, Timothy Brown, Joshua Burnham, Devon Erskine and Taylor Erskine as well as 19 great grandchildren, two great great grandchildren, along with many extended family members. Marjorie had an ability to make all that knew her feel special and loved, she will be sincerely missed.
Marjorie was lucky enough to grow up with her four siblings, the late Barbara Sweeney of Littleton, MA, the late Richard Howell of Newmarket, NH, Arthur Howell of Sudbury, MA and the late Donald Howell of Charleston, NH. Her adventurous spirit thrived in her childhood, as she and her siblings would create games, go skiing and just enjoy each other's company. From a young age Marjorie had a love for animals, mainly her beloved horse, Pepper, as she rescued and cared for many pets throughout her life she continued to show how much room she had in her heart. Marge was also a talented artist creating the artwork for her Class yearbook 'The Torch 1947' alongside her friend Carol Spinney (Aka Bird bird). sharing a love for sports as well, she was an avid basketball player and captain of her high school team. During her high school years Marge was crowned Acton's 'apple blossom queen', proving her beauty was not just from within.
Marjorie met the love of her life, John, on a train while commuting to work, they built a beautiful family together but sadly she became a widow too early in life; she managed to work multiple jobs at the same time to provide for her family, always with an optimistic outlook. Despite whatever she may have been going through, Marge was the type of person that was always willing to lend a helping hand or shoulder for you to cry on. She worked for Data General for 20 plus years and after retirement at age 65, she earned her CDL so she could go on to be a school bus driver adored by her students. Marge is a great example to many as she never let life's challenges stop her from showing kindness to others.
In Marge's later years she became a resident at 'Quaboag Rehabilitation and Skilled Care Center'. She loved to be involved and at one point she served as the president of the resident council. She took this seriously as she truly wanted to better the daily lives of other residents. She hosted weekly movie nights complete with posters and popcorn looking for a way to bring fun and joy to others. Marge was a social butterfly, always participating in bingo and other activities, she had a true competitive nature and enjoyed winning. Which she often did.
Marge's greatest passion however was for life, if there was a dance floor nearby that's where you'd find her. Marge never turned down an opportunity for a new experience or a chance to make her family smile. You would always see her dressed up to the nines making herself shine. She was selfless, always striving to create new memories for her children and grandchildren. There are no words that can adequately describe the beautiful and determined soul that Marjorie Brown was but something she once told her eldest daughter perfectly surmises her attitude in life, "Don't worry honey, you can't keep a good woman down." She was one of a kind and a huge hole is left in the hearts of her family and friends. However, the greatest loss will be felt by the Hershey Chocolate Company as Marge was a huge financial supporter.
The family would also like to say a special thank you to the staff at 'Quaboag Rehabilitation and Skilled Care Center' for their love and care.
In lieu of flowers, Have a Hershey Bar and hug someone you love. Funeral Information
A funeral service will be held on Saturday, February 12th at 2:00p.m. via Zoom, please cut and paste the link below to join and remember Marjorie.
Join Zoom Meeting
https://us02web.zoom.us/j/5341792023?pwd=SjByTFVwa2Z6MHNGU2xIeEFBY3VDUT09
Meeting ID: 534 179 2023 Passcode: 2020
Then on Sunday, May 22nd, at 11:30 a.m. a Graveside Burial Service will be held at The South Cemetery, 59 South Bolton Rd, Bolton MA, 01740, with a Celebration of life to follow.