Obituary for Francis J. Peto Jr.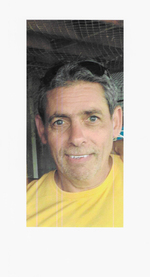 Clinton-Francis J. Peto, Jr., "Doody," 69, passed away peacefully at UMass Medical Center on Monday, February 14, 2022. He is survived by his daughter, Mariella Peto; generations of nieces & nephews, notably Stephen, Allan, Peggy, and James Lipka; Patrica, Robert, Jeffrey, and Nicholas Peto, and their families; sister-in-law Connie Peto; extended family and many dear friends. He is pre-deceased by his siblings, James E. Peto, Geraldine Wright, and Joanne Landine.
Fran was born in Clinton, son of the late Francis & Marguerite (Lepore) Peto. He graduated from the Clinton High School, Class of 1971 as a standout student athlete and member of the varsity football, basketball, and golf teams. Fran proudly served our nation in the US Navy and was stationed abord the USS Hawkins for three years before being honorably discharged. He returned home and began his lifelong professional career as a self-employed salesman for forty years until retiring. Franny was a long time member of the Clinton VFW and Polish American Veterans. Among his many enjoyments were salt-water fishing, horse racing, the Three Stooges, Elvis Presley, and playing practical jokes. Above all, he cherished his role as a father to Mariella and every moment he spent with her. Fran will be remembered lovingly as a devoted dad, fun loving brother, uncle, and friend. Calling hours will be held on Thursday, February 17, 2022 from 4 until 7PM in the Philbin-Comeau Funeral Home, 176 Water St., Clinton. A Mass of Christian Burial will be celebrated at 11AM on Friday, February 18, 2022 at St. John the Evangelist Church, 80 Union St., Clinton. Burial will later be held privately. Memorial contributions may be made in memory of Francis J. Peto, Jr. to: Cops for Kids with Cancer, Inc., P.O. Box 850956, Braintree, MA 02185. Online condolences may be placed at www.philbincomeaufh.com

Affiliations

American

US Navy
The insignias listed here may be subject to copyright and / or trademarked. Those copyrights and trademarks are owned by the respective organizations.