Obituary for Charles E. Rushia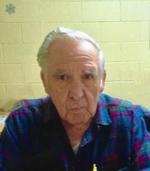 Clinton-Charles E. Rushia, 92, passed away peacefully at home surrounded by his loving family on Monday, September 14, 2020.  He is preceded in death by his beloved wife of 46 years, Marion (Springer) Rushia.  He is survived by two daughters: Catherine Rushia of Mendon, VT; and Margaret Freedman & husband Stephen of Clinton, MA; siblings: Leo Rushia of AL, and Margaret Deyo of Claremont, NH; three grandchildren: Sarah Freedman, Daniel Freedman & wife Naomi, all of Clinton, MA; and William Grey, Jr. of VT; several nieces, nephews, extended family and friends. 

Charles was born in Claremont, NH to the late Alec Rushia & Corrinne (Helie) Gaudreau.  He was later raised in Windsor, VT, and was a graduate of Windsor High School, Class of 1950.  Following his studies, he enlisted to proudly serve our nation in the US Navy during the Korean War.  Upon returning home from service, Charles began his lifelong career as a mechanical inspector with the Raytheon Company, from where he ultimately retired.  In retirement, Charles and Marion returned to Windsor, VT, where he remained actively involved in St. Francis of Assissi Parish as a Eucharistic Minister and member of the Knights of Columbus.  He also held membership with the American Legion and was a volunteer for Meals on Wheels.  A man of many hobbies, Charles amassed a collection of countless model cars, held great interest in classic western and science fiction movies, and mastered the arts of both woodworking and furniture reupholstery.  Above all, he was a devoted family man who will be forever remembered as a loving husband, father, brother, uncle and friend.
Calling hours will be held Thursday, September 17, 2020 at Knight Funeral Home in Windsor, VT from 5-7PM. A Mass of Christian Burial will be held at St. Francis Church in Windsor on Friday, September 18, 2020 at 11:00AM, with burial to follow in St. Francis Cemetery, also in Windsor.
In lieu of flowers, please consider making a donation in Charles' memory to the Norris Cotton Cancer Center: DH/Geisel Office of Development, Attn: Gift Recording, 1 Medical Center Drive, Lebanon, NH 03756.



Affiliations

American

US Navy
The insignias listed here may be subject to copyright and / or trademarked. Those copyrights and trademarks are owned by the respective organizations.