Obituary for Gene Barry Ouellette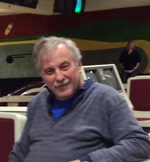 Clinton-Gene B. Ouellette, 62, passed Monday, May 22, 2017 comforted by the company of his niece, Joelene Ross of Westborough, MA, at Tufts Medical Center in Boston following medical complications. He is survived by his beloved wife and life partner of over 30 years, Jeanne (Grenon) Roach; three-step children, Thomas J. Roach, Tonya Roach, and Shaun Roach; his deeply admired twin brother, Gerry Ouellette of FL; siblings, Joyce Wood of FL; Carol Giles of Bellingham, MA; Clement "Sonny" Ouellette of Framingham, MA; Theresa Weld of Ashland, MA; Charles Ouellette of NH and Lorraine Hoyte of Framingham, MA; numerous adored nieces and nephews, great-nieces and nephews, and many dear friends. He is pre-deceased by siblings James Ouellette, Leo Ouellette and Marlene Duclos.
Gene, son of the late Clement and Blanche (LaPointe) Ouellette, grew up in the Saxonville area of Framingham, MA. He graduated from Framingham North High School and proudly served our nation in the United States Army National Guard. Gene was employed throughout his career as a machinist, most recently working for Vaccon Co., Inc. for 13 years. His work uniform shirts bearing his name will be held dear as pajamas forever by children in his family who particularly treasured him. He was an avid outdoorsman who loved fishing, maintaining his yard and tending to his beautiful fruit trees. He was talented in small engine repair and was always thrilled to use his skills to lend a helping hand to a friend in need, especially with their lawn mowers. Gene loved his two dogs and was happiest when proudly enjoying his home, the company of his family, hunting for antiques and engaging in creative projects such as fixing and restoring his cherished collection of clocks.
Funeral services are to be held privately under the direction of the Philbin-Comeau Funeral Home, 176 Water St., Clinton, MA.
In lieu of flowers, memorial donations in Gene's name can be made to Tufts Medical Center's Cardiovascular Center and Cardiac Care Unit (CCU) at giving.tuftsmedicalcenter.org/give, or by calling 617-636-7656. Online condolences may be placed at www.philbincomeaufh.com.