Obituary for Victor J. DiBenedetto Jr.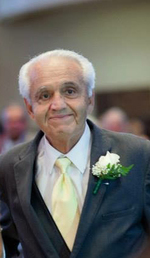 Clinton-Victor J. DiBenedetto, Jr., 82, passed away peacefully at home on Sunday, May 7, 2017 after a brief illness. He is pre-deceased by his beloved wife of 37 years, Aili (Hamm) DiBenedetto. He is survived by two children, David & wife Donna (Condon) DiBenedetto of Leominster; and Lisa M. DiBenedetto of Lancaster; 3 grandchildren, Michael DiBenedetto & fiancée Danielle West of New York City; Danielle DiBenedetto of Leominster; and Alyssa (DiBenedetto) Boucher & husband Derek of Lunenburg; 2 great-grandchildren, Olivia Rose Boucher and Peyton Danielle Boucher; several nieces, nephews, cousins, and many dear friends. He is preceded in death by his sister Anne Jaeger, and companion Joanne (Peto) Landine.
Vic was born in Clinton to the late Victor J. & Rose (Ranieri) DiBenedetto. He attended local schools and graduated from the Clinton High School, Class of 1952. Vic enlisted to proudly serve our nation in the United States Navy aboard the USS Wilkinson during the Korean War. He returned home safely to begin his life career as a Master Electrician, having worked for ITT Surprenant, Ray-O-Vac, and the Colonial Press in Clinton before ultimately retiring from Astra Pharmaceuticals in Westborough. Vic was a member of St. John the Guardian of Our Lady Parish in Clinton and held membership with the ITAM and Elks Lodge in Clinton, and Eagles in Leominster. He immensely enjoyed cheering for his children and grandchildren at their sporting events and was a dedicated fan of Boston sports teams. He loved fishing the Wachusett Reservoir and was happiest while in the company of his family. Vic will be forever remembered as a loving husband, father, grandfather, brother, uncle, and friend. Funeral services are to be held ‪on Thursday, May 11, 2017 from the Philbin-Comeau Funeral Home, ‪176 Water St., Clinton, with a Mass of Christian Burial to be celebrated ‪at 10AM in St. John the Evangelist Church, ‪80 Union St., Clinton. Burial will follow in St. John's Cemetery, Lancaster. Calling hours will be held in the funeral home ‪on Wednesday, May 10, 2017 from 4 until 7PM. Memorial contributions may be made in memory of Victor J. DiBenedetto to: Multiple Sclerosis Society of Greater New England, ‪101A First Ave., Waltham, MA 02451. Online condolences may be placed at www.philbincomeaufh.com


Affiliations

American

US Navy
The insignias listed here may be subject to copyright and / or trademarked. Those copyrights and trademarks are owned by the respective organizations.